Hen's Night Playshop with Kashmir

Have a Belly Laugh
Belly Dance is fun and accessible
to all ages - and can provide great
photo opportunities.
What is a "Playshop"?
A Playshop is a workshop without the work. It is a chance for people to try out belly dancing with friends under the guidance of Kashmir.
Who is Kashmir?
Kashmir is a belly dancer who has been teaching since 1997 and taking Hen's Night parties since 2005. (
More about Kashmir's training
)
Kashmir has the advantage of many years experience and can not only dance and teach a class but can think on her feet. Only enough space for people to stand in one spot? Kashmir can adjust. Noisy atmosphere and no control over the stereo? Kashmir will change her teaching to a "follow the bouncing butt" style. Hen and bridesmaids falling down drunk? It won't throw Kashmir.
So we can drink?
The Playshop works best after limited alcohol. However, if people want to drink before - or during - the Playshop that is up to them.
So what can we expect in a Playshop?
Lots of laughs. The usual format is a very short demonstration of the dance by Kashmir. Then she gets the Hen up, wraps a jingly scarf (yes, you can
buy one
) around her hips and does a duet with her. Then she teaches a lesson for everyone. Often this will include a short choreography which sometimes the bridal party will perform for the rest.
There are a few spare hip belts for the guests as well - to get you in the mood.
The format can vary depending on what is required. The normal length is an hour but it can be shorter.
What if people don't want to take part?
The only pressure is peer pressure. In some Playshops everyone joins in. In most all but one or two do. Very rarely do less than half have a go at belly dance.
Is it suitable for my gran?
Even assuming your grandmother is conservative (she may not be you know), Kashmir's Playshops are suitable for all the family. (At least what Kashmir does is - the behaviour of the guests is beyond her control!) The eldest participant was a great-grandmother with a walking frame.
At the other end, several Playshops have included children. Generally they will drift in and out as an hour is a long time for a small child.
Do you come to us - or can we come to you?
Normally Kashmir comes to your venue. Arrives mostly dressed (a minute or so to add the finishing touches to the costume) with music. The music starts and away you go.
For parties up to about 20 people, the South Brighton studio is available for the Playshop. Food and drink are not permitted in the studio.
Do you have to be fit?
No. Belly dance is a very gentle exercise. Also, you can call for drink breaks or a performance by Kashmir (solo or with a victim - umm volunteer) or ask some questions (that usually slows her down).
Pregnant women can also take part if they stay within their own comfort zone.
Do you have to show your belly?
No, normal party wear is fine. However, it is easier without high heel shoes.
What time of day can we have our Playshop?
Can we have a Hen's Afternoon?
How late do you come out?
The Playshop time is quite flexible. Afternoon parties can work very well as an ice breaker before the serious partying begins.
As there will be some belly movements, it is recommended the Playshop is not held after a large meal.
Early evening is very popular. It is recommended that Playshops start before 9:30pm.
What do other people say?
Here's what one party organizer said: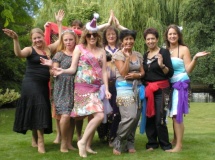 "A group belly dancing lesson with Kashmir was a wonderful addition to the hen party. Her spirited character and lively approach was so entertaining and fun - a great way to kick off the afternoon."
Alisa, Bridesmaid/Hen Party organiser
Can we have veils?
Veils take up a lot of space. You need at least 6 square metres for each person taking part. Working with veils requires sober party goers so is best as the first activity. If you think you have the space, feel free to ask about whether this is something that could be included.
How much does it cost?
Price depends on a number of options. The cheapest is a Bellygram (a single performance with Kashmir and the Hen). The most common option is an hour with some dress ups and a lesson.
How much would a hip scarf cost?
I have a small number of
hip scarves for sale
from $20-$60.
---
© Copyright 2008-12
Updated by JEWEL